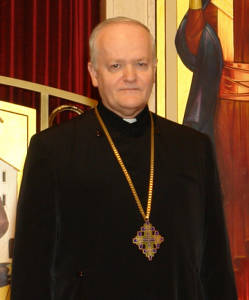 Father Rosco was born in Gary, Indiana, in 1944.  He studied at Indiana University [1970-1972] and received his degree in Theology from Christ the Saviour Carpatho-Russian Orthodox Seminary in Johnstown, Pennsylvania [1972-1976].  In 1976, he was ordained a deacon by Archbishop Valerian (Trifa) at St. George Cathedral in Southfield, Michigan, and then a priest by the same archbishop at his home parish, The Descent of the Holy Ghost Church in Merrillville, Indiana.  He served The Falling Asleep of the Ever Virgin Mary Church in Saint Paul, Minnesota [1976-1979], and has served Sts. Peter & Paul Church in Dearborn Heights, Michigan, as parish priest since January 1, 1980.  At his request, he has assumed the position of Assistant Priest of the parish beginning in March 2018.  In recognition of his over thirty years of priestly service, he was elevated to the rank of Archpriest by the Holy Synod of Bishops in 2007, and then to the rank of Protopresbyter in 2017 in recognition of more than forty years of service.
Fr. Romey was the long-time Referee on Matrimonial Affairs (Dispensations) for the Romanian Orthodox Episcopate of America (ROEA); was a member of the Joint Dialogue Commission (which worked to restore relations between the two Romanian jurisdictions in North America) from its beginning; has served as a member of the ROEA Episcopate Council; participates in The Council of Orthodox Christian Churches of Metropolitan Detroit (COCC), having held the position of Secretary for several years; has served as President and Secretary of the ROEA Spiritual Consistory; and was National Spiritual Advisor to The Association of Romanian Orthodox Ladies Auxiliaries (ARFORA), The American Romanian Orthodox Youth (AROY) and The Orthodox Brotherhood USA.  He speaks English and Romanian.
In 1976, he married Mary Ellen Galbincea who is originally from Cleveland, Ohio.  She is the Church School Director; served as President of the parish Ladies Auxiliary on several occasions; has served on the ROEA Episcopate Council; has been a member of the National Board of The Association of Romanian Orthodox Ladies Auxiliaries (ARFORA) for numerous years, including serving as its President; and is a long-time Director of the ROEA's Summer Religious Education Courses (Camp Vatra) — all while continuing her career as a secondary education mathematics teacher until her retirement in 2013.  They have one son, Tom.