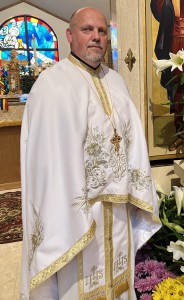 Father Balanean was born in Zalau, Salaj, Romania, in 1979.  He received his education in Romania, attending the Seminary of the Holy Three Hierarchs in Zalau and Faculty of Theology at the University of Oradea.  He came to the United States in 2002.
Having settled in Dearborn Heights, he attended services at Sts. Peter & Paul Church and soon began serving as one of the parish cantors.  At the request of the parish, Fr. Horaţiu was ordained into the Holy Diaconate on December 21, 2003, by His Grace, Bishop Irineu to serve as parish deacon.  He was then ordained into the Holy Priesthood by His Eminence, Archbishop Nathaniel on September 9, 2007, and served the parish as assistant priest until March 2018 when he was appointed as parish priest.  He was elevated to the rank of Archpriest by the Holy Synod of Bishops in 2023.

In 2002, he married Mihaela Pop, who also attended the University of Oradea for a degree in Psychology, and has a career in nursing.  She sings in the Parish Choir and is the current president of the parish Ladies Auxiliary.  They have two children, Bianca Ioana and Luca Stefan.